Disney XD orders 'Tron: Legacy' toon

Tron Legacy: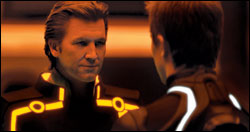 Disney is spinning its upcoming "Tron: Legacy" feature into an animated TV series.
Boy-centric cabler Disney XD has given a series order to "Tron: Uprising," which is set for a summer 2012 bow.

Charlie Bean ("Samurai Jack") will exec produce and direct, while "Tron: Legacy" writers Edward Kitsis and Adam Horowitz will serve as consulting producers. "Tron: Legacy" co-producer Justin Springer is also on board.

"Tron: Uprising's" voice cast includes Elijah Wood, Emmanuelle Chriqui, Mandy Moore, Paul Reubens, Nate Corddry and Lance Henriksen. Bruce Boxleitner will reprise his role as Tron.

Disney XD had already picked up a 10-part "Tron" microseries, which airs next fall.

Disney TV Animation is behind the show. Disney Channels Worldwide entertainment prexy Gary Marsh called the new show "a culmination of an extraordinary collaboration between Disney Television Animation and our feature film studio."

"Tron: Uprising" will focus on Beck (voiced by Wood), who leads a revolution inside the Grid's computer world.

From:
http://www.variety.com/article/VR1118026910

Enjoy!